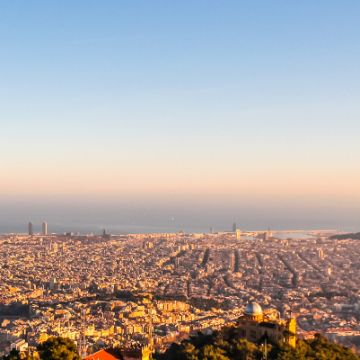 IDENTIFY THE BEST PLACE TO STAY IN BARCELONA FOR YOUR NEXT TRIP​
When I'm exchanging e-mails with my clients during the booking process for their guided tours, I often get asked for recommendations about where to stay in Barcelona.
And while this is a very personal choice, there are a few things you need to take into account when you chose what area to stay.
Here are our thoughts about what area to stay:​
This the best place to stay in Barcelona if you'd like to be surrounded by a medieval setting and if you don't mind walking (some beautiful luxury hotels in Barcelona are located in pedestrian streets and you won't be able to get to the door by taxi).
The district is divided in four different parts. Here is a short description of them, to help you choosing what area to stay in (and links to our recommended hotels there): 
Eixample district / City Center​
When you are considering where to stay in Barcelona, the Expansion area or modernist part of the Barcelona, should be one of your first choices if you want to be near the city center and to me it's probably the best neighborhood to stay in Barcelona. Choose a central location to stay around Plaça Catalunya, or one of the lovely hotels near Passeig de Gràcia and Rambla Catalunya.
You'll be walking distance from the Gaudí apartment buildings, right in the heart of the best shopping area, and you'll have lots of food options nearby. In my opinion, if you are staying more than 4-5 blocks from them… it's already too far to be considered the city center!
The waterfront can be the best place to stay in Barcelona during the summer months. We have 
great beach hotels in Barcelona
, but I must say that in the winter you'd be better off in a more central location
That is, unless you have a strong preference for one of the international hotels located here… Chose from two different locations:
Old Port and Barceloneta. This is the area nearest to the Old Town. It's lively, there are lots of seafood restaurants and the beach starts here, however, it's not so well communicated (specially the W hotel, at the very end of everything…) and you'll end up using taxis all the time or walking a lot.
Olympic Village. This area is quieter than Barceloneta, but it's even further from the city center. The good point are the restaurants along the beach and the marina, as well as the beach nightclubs if you are planning to go out at night.
Zona Alta & Pedralbes (end of Diagonal Avenue)​
A high end choice if you are looking for big hotels from well-known international chains: you'll be in the close to the best neighborhood in Barcelona, but take into account that you'll be far from the city center and you'll need to take cabs or a long subway ride every time you want to go sightseeing. 
In the other hand, the area is quiet, safe and local, and you'll be near two top shopping areas where the local high society goes: Corte Inglés (Maria Cristina) and L'Illa.
Although some of the top 10 hotels in Barcelona are located here… That's really far from any site (at least for the Barcelona scale… maybe for L.A. people it feels so centric!). I see it more of a business hotel destination: if you stay there be ready to take taxis all the time (or spend a lot of time in the subway).
There are some fun restaurants, though. Besides that, the only other remarkable points are a huge shopping mall and the award-winning contemporary architecture of the area. And for people that love the little things of life, Poblenou can also be a good place to go off the beaten path.
AND BONUS! Where you maybe thinking Sagrada Familia would be the best place to stay in Barcelona? It might not be so.​
Although technically located within the Eixample district (Expansion), it deserves its own entry when considering where to stay in Barcelona. After all, this church is the most visited monument in Spain! However, I must say I wouldn't chose to stay in this area if I was coming for a short stay, as it is not walking distance from any other site, the food options aren't specially remarkable and shopping is poor (outside of souvenirs).
It's only great if you are fascinated by Gaudi and are decided to spend time looking at the basilica over and over again. Well, it's also a good choice if you want to get a feel of the "real Barcelona": only 2 blocks from the church, the area stops being touristy and becomes really local. Here are some suggested hotels in the area.
I hope to have helped you choosing what area to stay in Barcelona!
LOOKING FOR OTHER DISTRICTS TO STAY? HERE ARE SOME MORE IDEAS:​
Have you chosen what area to stay during your Barcelona trip?​
RESEARCHING FOR A TRIP IS TIME-CONSUMING...
Need more inspiration?
Our 100% FREE Barcelona Collection will give you everything you need to organize the trip of your lifetime to Barcelona.
BEST INSIDER TIPS FROM THE PROS!